This month we have some great sponsors who would love to share their blogs, Etsy shops, and websites with you!
• • • • • • • • • • • • • •
Sweety Darlin' Designs is a custom clothier for the human companions of the animal world. We create anything and everything your imagination can dream up. We specialize in historical attire, costuming, and formal wear. If you need a special coat to match your humans dress or suit, just bark and we will sniff out a solution. Your humans can ask too, we don't bite.

Find us on Facebook we accept both animal and human likes.
• • • • • • • • • • • • • •
Here at Out in the Sticks, we gather beautiful items made by Nature and ship them to your door for use for decorations and craft supplies. We carry a variety of natural items. Gum balls, acorn caps, and pine cones are a few of our best sellers. All of our items are freshly gather from our 20 acre farm in Arkansas. Everything is hand selected making sure there are no cracks or chips.
• • • • • • • • • • • • • •
At Chunky Bling Beaded Watches, we've made it easy to find the perfect set of chunky accessories for any occasion or outfit. We carry a wide selection of chunky watches, chunky bracelets, chunky rings, and chunky charm necklaces. Check out our "Build Your Own Watch" option. We have many combination sets which allow you purchase some of our most popular chunky jewelry sets at discount prices!
We also offer an affiliate program were you can earn up to 30% in cash commissions. It just takes 3 minutes to sign up.
Find out more here.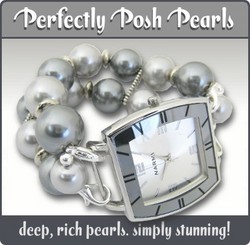 • • • • • • • • • • • • • •
We would love to have you listed as one of our
FEBRUARY
sponsors. View
this page
for more information and
email us
for a rate sheet!