This month we have some great sponsors who would love to share their blogs, Etsy shops, and websites with you!
Why Dog Pack Snacks?
• no wheat, soy or corn
• no by-products
• no artificial preservatives or colors
• 100% Human Grade
• Limited ingredients
We are licensed and regulated by the Florida Department of Agriculture and have a Master Feed Permit. We abide by all rules for testing, analysis, and labeling set forth by the Department of Agriculture.
All ingredients are 100% Human grade, USDA inspected, purchased from stores you know and love. We pride ourselves on the quality of our snacks and would not sell you anything that we do not feed to our pup or eat ourselves. Dog Pack Snacks are proudly made and packaged in the USA.
• • • • • • • • • • • • • •
At Chunky Bling Beaded Watches, we've made it easy to find the perfect set of chunky accessories for any occasion or outfit. We carry a wide selection of chunky watches, chunky bracelets, chunky rings, and chunky charm necklaces. Check out our "Build Your Own Watch" option. We have many combination sets which allow you purchase some of our most popular chunky jewelry sets at discount prices!
We also offer an affiliate program were you can earn up to 30% in cash commissions. It just takes 3 minutes to sign up.
Find out more here.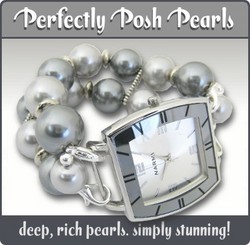 • • • • • • • • • • • • • •
Personalized Glassware, Dinnerware, Picture Frames, Coasters and More! Great for bringing that personal touch to your home or wedding! All of our collections are personalized with the letter, monogram, or name of your choice!
• • • • • • • • • • • • •
We would love to have you listed as one of our
DECEMBER
sponsors. View
this page
for more information and
email us
for a rate sheet!